Back to all posts
Posted on
Play is Important for Young Students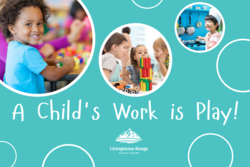 Young students flourish when they have opportunities to play, learn, and develop relationships. Following Alberta Health and Alberta Education COVID-19 guidelines, play-based curriculum continues to be the foundation of programming for our early learners.
Livingstone Range School Division's Early Learning Supervisor/Learning Coach Sandi Harrower says that play is an integral part of a child's day. "Purposeful play allows children opportunities to collaborate, think critically, problem-solve, and to have meaningful language interactions throughout their day," she says. "Play is the avenue in which children are able to create, imagine and explore, and we want to ensure that it continues to be part of the classroom experience."
To limit the spread of COVID-19 learning activities, centres, and classroom spaces might look a little different. Some items, like plush toys, blankets, as well as large sand tables, water tables, and sensory tables, are not able to be easily disinfected and therefore have been removed from learning spaces. Children have access to their own personal items like crayons, glue, and scissors. Increased measures around hand-hygiene and respiratory etiquette are in place and students are to wash or sanitize their hands before and after using shared items like toys, books and puzzles.
"The current Government of Alberta guidelines make it clear that children within the same cohort can still have access to shared toys and structures," says Sandi. "This means that teachers can still use many of the toys, centres, and learning tools they're used to using, as long as these are used by one group of students". 
Kindergarten to Grade 3 students are not required to wear masks in school, but other safety measures are in place in classrooms with young students to help stop the spread of COVID-19. These include:
Increased hand washing and hand sanitizing
Staying home when students or staff are sick
Limiting the number of students at a play centre
Using individuals supplies
Cleaning and disinfecting toys and surfaces
Sandi says that allowing students to continue to play and learn in social settings has many benefits for students, especially during the pandemic. "Maintaining normal activities like play helps reduce anxiety for children," she says. "Research shows that play helps support future academic learning and well-being. Play is the avenue in which children make sense of the world around them and is integral to their emotional, social and physical well-being".
If you have questions about health and safety protocols in your child's classroom, speak with the teacher and/or principal.
Click HERE to download a copy of our "A Child's Work is Play Poster"