Back to all posts
Posted on
Livingstone School Athletic Director Receives Health & Physical Education Award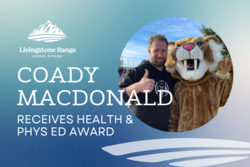 For his outstanding contributions to health and/or physical education, Coady MacDonald has received the Alberta Teachers' Association Health and Physical Education Council's Certificate of Commendation. 
"I hope this means I do a good job of promoting healthy, active living," says Coady, who is the Athletic Director at Livingstone School in Lundbreck. "Physical activity isn't just about a basketball or a volleyball team; it's about getting out and being active!"
Coady, who is in his 14th year of teaching and his 10th year with Livingstone Range School Division, lives what he teaches. He enjoys skiing, biking, hiking, badminton, and hockey. In addition to teaching, he also coaches badminton and coaches his own kids outside of school. 
Colleague and Livingstone Ski Academy Director Scott Bailey nominated Coady for the award. "In my nomination letter, I spoke to the amazing level of student participation in all sorts of physical activity that I've witnessed here at Livingstone School," says Scott. "Coady has really fostered an environment where all students feel welcome and excited to participate, whether on a school team, in intramurals, on the playground at recess or in Phys Ed and Daily Physical Activity (DPA) classes. Coady leads by example and through all of the schools programs, gives students countless opportunities to develop the confidence, competence and motivation to be active and healthy for life."
The provincial Certificate of Commendation was presented to Coady at a regional award ceremony in Lethbridge in May 2023. Livingstone School Principal Sarah Holmgren feels that he was very deserving. "Coady spends his days teaching students from Kindergarten to grade 12 the importance of staying active and developing a love of sport," says Sarah, "but most importantly, he teaches students to persevere, embrace challenges, try new things and work as a team. He truly knows every student in the school and works hard to build and maintain positive relationships with all of them, living up to LRSD's vision of 'Every student, every day.'"
"I like working at Livingstone School because I see kids from their first day of school through to graduation," says Coady, "I try to truly see everyone every day, and it is so much fun helping inspire the kids to enjoy a healthy, active lifestyle."
Congratulations to Coady on this award and his commitment to 'Every student, every day.'