Back to all posts
Posted on
Ron Gillespie Named Acting Assistant Principal at Livingstone School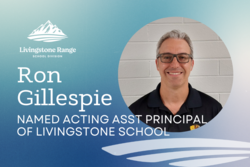 Livingstone Range School Division is pleased to announce that Ron Gillespie has been appointed as the Acting Assistant Principal at Livingstone School in Lundbreck until January 2024. 
Ron holds Bachelor of Arts and Bachelor of Education degrees from the University of Lethbridge. He is pursuing a Masters of Education in Educational Leadership with Yorkville University. Ron has nearly 20 years of teaching experience.
Livingstone School Principal Sarah Holmgren knows that Ron is a great fit for school administration. "Ron has been a leader in our school since his arrival," says Sarah. "His passion for connecting with staff and students has contributed to Livingstone's positive school culture and is one of many reasons that I am confident he will do an excellent job in his new role."
Ron is looking forward to this responsibility.  "I am excited for the new challenge of administration," says Ron. "It will provide me the opportunity to apply my skills and experience in a new role, while also learning many new facets of the educational structure and systems."
In his free time, Ron enjoys hockey, traveling, camping, landscaping, and spending quality time with his family.
Congratulations to Ron on his new role!